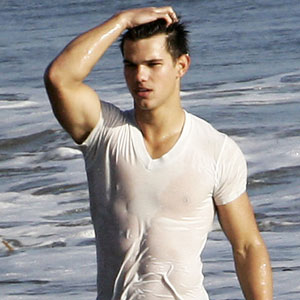 Ladies, ladies, ladies!! The day has come that we have been waiting for. We can finally fawn all over the hot, rippled Taylor Lautner without feeling just a wee bit icky.
That's right. Mr. Jacob Black turns 18 years old today and completely legal for all of us women who have been dreaming about corrupting the sweet, innocent stud.
You can practically hear the cougar cages busting open and the stampede has begun!
Now don't get me wrong, Taylor already leads a not so underage lifestyle. But the good thing is, now that he is 18, we can talk about it.
Hopefully, Taylor will have an very happy birthday. He has said that he doesn't have any big plans, but I know otherwise. With his career taking off, I doubt this day will go by without some kind of celebration....or a new blind item for us!