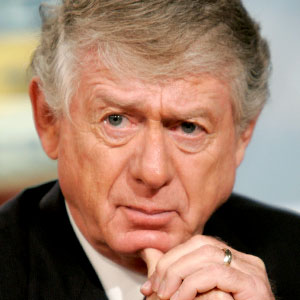 Ted Koppel
has delivered a lot of heartbreaking news over the years. Now, sadly, he's on the receiving end.
The venerable ABC newsman's 40-year-old son was found dead in a Manhattan apartment early yesterday morning. And while no cause of death has yet been declared for
Andrew Koppel
, some tragic details on the last hours of his life have leaked out.
Andrew, one of the former anchor's four children, was declared dead around 1:30 a.m. Monday in the Washington Heights apartment of a drinking buddy. Paramedics were called to the apartment after pals discovered Andrew had urinated and defecated in his bed and had stopped breathing. He was found unconscious and was ultimately unable to be revived.
According to the
New York Post
, Andrew, who lived in Queens with his girlfriend and daughter, had spent the day bar hopping with a 32-year-old waiter whom Koppel had met less than 12 hours earlier.
While the cause of death remains unknown—and there is no sign of foul play—Andrew sadly has a history with alcohol. In 1994, he was charged with misdemeanor assault after getting into an alcohol-fueled fight with a senatorial aide in Washington, D.C., and a few years later got into a car accident in which alcohol was reportedly to blame.
The Koppel family has yet to issue a statement on their devastating loss.