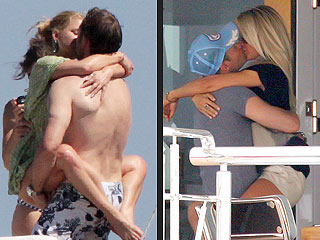 Ryan Seacrest and his new lady love Julianne Hough seem to be going hot and heavy, and taking some pointers from Jessica Simpson and Eric Johnson.
Seacrest and Hough spent time on Ryan's yacht in Italy and have been displaying their new hook-up all over L.A. Julianne went from laughing off accusations of their romance to balls to the wall flaunting it for everyone to see.
Jessica Simpson and her NFL Flavor of the week Eric Johnson are clearly in the still having great sex phase of their romance. We all know how kinky Jessica can get in the bedroom thanks to the big mouth of ex-husband Nick Lachey and the reputation of her ex John Mayer. When will poor little Jessica learn that her hot moves in the bedroom only entertain for so long before they realize that there is nothing else going on in that pretty little head of hers. Jessica is the company that Joe built and sadly to say, there is nothing more to her. Poor girl.