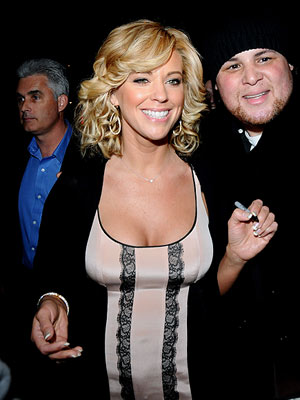 Kate Gosselin shows off her new look during a celebration for her new gig on
Dancing With The Stars
. You can see the transformation for yourself. And say what you will, she may be a bitch and in my opinion a very bad mother, she has totally gotten hot.
As we all know, in every break-up there is a winner and a loser. Her and
Jon
switched the roles back and forth a bit but in the end, due to her makeover and DWTS gig, there is a good chance this could make Kate the winner. Of course, her dumb ass luck, she will probably be the first to go home and become a funny headline again.
I have asked before, and I will ask again. Where are the children? When the cameras followed them, she was constantly with the kids. And now that the cameras rolled out, so did Kate. It is very obvious who was after the HW lifestyle and became clear that was the main reason Jon couldn't deal anymore. She had stars in her eyes and then he just laid everything that walked.
So as much as I think
Kate
looks good, I wish that I could find a photo of her looking good with the kids. But I couldn't, so hopefully Jon is finally done pretending he is a ladies man and has started taking fatherhood seriously. Or, we can just give the kids a show and forget the parents completely. Better yet, put them on 24 hour web cam and we can be the parents. Do a hell of a better job.